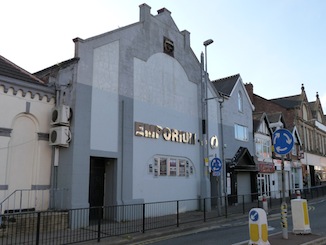 Ex-Club sounds a top investment
31.03.2014
A former town centre nightclub could become a major retail store, a pub or even an Asian wedding venue. The Emporium, in Coalville, which closed in January after six decades as a nightclub venue, has been put on the market priced at £500,000.
The 1,271 sq metre (13,688 sq ft) site has already attracted interest from potential buyers, said Reg Pollock, associate at commercial property agent APB in Leicester.
"The interest level has been good," he said. "We've only had it on the market for a week now. I think it will be looked at from many angles. It could be a wedding venue or a banqueting centre or part of a large pub chain.
"It's in the town centre so it's suitable for any sort of redevelopment. It could be a retail scheme with residential above.
"It's pretty much a blank canvas. There's even potential for a bigger site with the Co-op next door which is still empty.
"I think the market is picking up. I think there's certainly a good opportunity for a retail business user for the site, particularly given it has a large public car park around the back."
The Belvoir Road building is adjacent to the former Co-op department store, which closed almost a year ago.
The Emporium's closure was announced last September after it went into liquidation.
In its heyday, The Emporium drew up to 3,000 people at a time.
Former general manager, licensee and head of security, John Skillen, said: "It was one of the top-five dance club venues in the country for the progressive music scene between 1999 and 2005.
"It ranked alongside the likes of the Ministry of Sound, in London, Gatecrasher, in Sheffield, and Cream, in Liverpool."
The club attracted top DJs such as Tiesto – reputedly paid £20,000 for one night's work in 2005 – Paul Oakenfold, Paul van Dyk and Judge Jules who have all performed at Passion, the club's award-winning Saturday night event. Music lovers travelled from as far as Birmingham or London.
The building was originally a cinema but had been a nightclub for the past 60 years, previously known as The Grand, Tiffany's, Phase Three, Sapphires and Crystals.