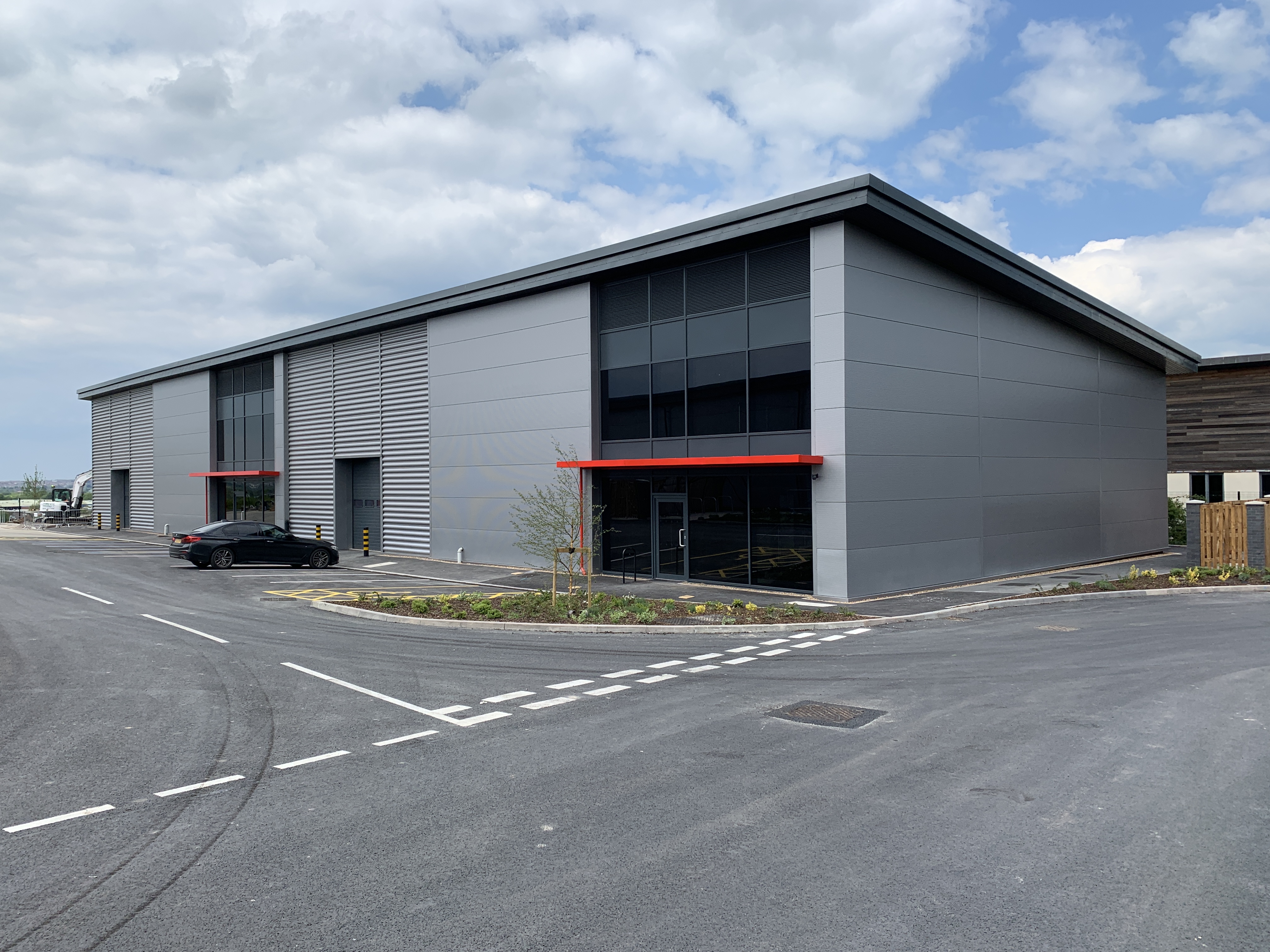 Works near completion on new bakery and adjoining industrial units
26.04.2021
Work is now near completion in respect of the development of a new purpose built bakery and five speculative industrial units at High View Close in Hamilton, adjacent to Leicester Food Park.
The development is being undertaken by Leicester Bakery as part of their ongoing growth strategy.  To complement the new bakery, 26,500sq.ft of new high specification industrial units have been constructed, which shall be ideal for innovative, high quality, food based production.  
Leicester Bakery currently occupy premises on Kent Street and have done since 1980. They have outgrown these premises and will hope to take occupation of the new 30,000sq.ft facility in the upcoming months. The relocation shall improve efficiencies and will enable Leicester Bakery to have full potential in meeting all requests of various clients.  Mr Shoiab Sabat director of Leicester Bakery comments:
"Our new bakery shall have a contemporary look with modern machinery installed. This investment will lead to increased productivity, meeting needs of various clientele and allowing us to introduce new products to the market. "
As part of the development, five new speculative industrial units have been constructed, which will be held as investments. The buildings are to a high specification and are suitable for established food businesses or ones that would like to start up and grow. Each unit provides a clear span production space to a minimum eaves height of 5.8m. There is a central service yard providing loading, car parking and designated spaces for each unit.
APB are instructed to act as sole letting agents and Reg Pollocks comments; "Hamilton is a popular industrial estate due to its strategic location on the east side of Leicester and proximity to the Outer Ring Road. These units are of an ideal size and spec for a variety of SME businesses."
Reg adds; "there is a strong and continued demand for industrial space throughout Leicestershire and we have already received a high level of interest for these units. The location and the specification make them ideal for food-based occupiers and grow on space for the Leicester Food Park. They will go like hot buns!" 
For further information, please contact the sole agents, APB – 0116 254 0382